Shop: Gifts, Economic prices, Donations... Summary
Shop: Gifts
NO SOPHISTICATED SHOP E-COMMERCE presently, SORRY!
However, if you want to buy T-Shirts Catho Russia Converted, made in Belgium, or make Posters, in principe, it should be possible.
PRICES ARE EXPENSIVE. YOU MAY EXPECT 40 EURO FOR A T- SHIRT, 30 EURO FOR A POSTER FORMAT A2 + Post costs. Negociatiation of Prices possible (big quantities...)
Some time required to ship it. Special attention shall be given to 1st washes of T-Shirts (cold water, alone, eventually hand washes...), until provider improves ink quality. For decoration purposes, this is not a problem. If you want to go publicly with T-shirt dressed, good daily protections against evil recommended.
For a command, the best is first to contact Converted Roman Catholic Russia Ideas, via phone, or, better, via e-mail.
YOU MAY EXPECT Several DAYS of DELAY, e.g. some 2-3 weeks, depending on circumstances, AFTER PAYMENT, UNTIL YOU GET YOUR GIFT, VIA THE POST.
IF YOU WANT ECONOMICAL PRICES, THE BEST IS TO DOWNLOAD THE PICTURES, e.g, a bit further Below (with mouse, right click, save as...) AND print/do it your self (e.g. go to print shop near you... etc).
YOU MAY ALSO CHANGE the PICTURES, SELL it, if you want to... ALL PUBS TO JESUS picture OF SAINT FAUSTINA (WITH PROMISE) WELCOME. Only this: I don't take responsibility on changes: if you set horns in Our Lady, I have nothing to do with it...
IF, INSTEAD, YOU WANT A GIFT TO OFFER TO SOMEBODY, then EXPENSIVE IS BETTER... eventually you could buy it here... no obligations, of course...
Below you can find again some of the pictures may be used to buy gifts or either to download and use as you wish...
RUSSIA CONVERTED GOLD, Images for T-SHIRTs
Image for T shirts, Version without Rose above
Image for T shirts, Version without Rose above and without Russia mentioned
Image for T shirts, Version with Rose above
RUSSIA CONVERTED GOLD Background, for posters...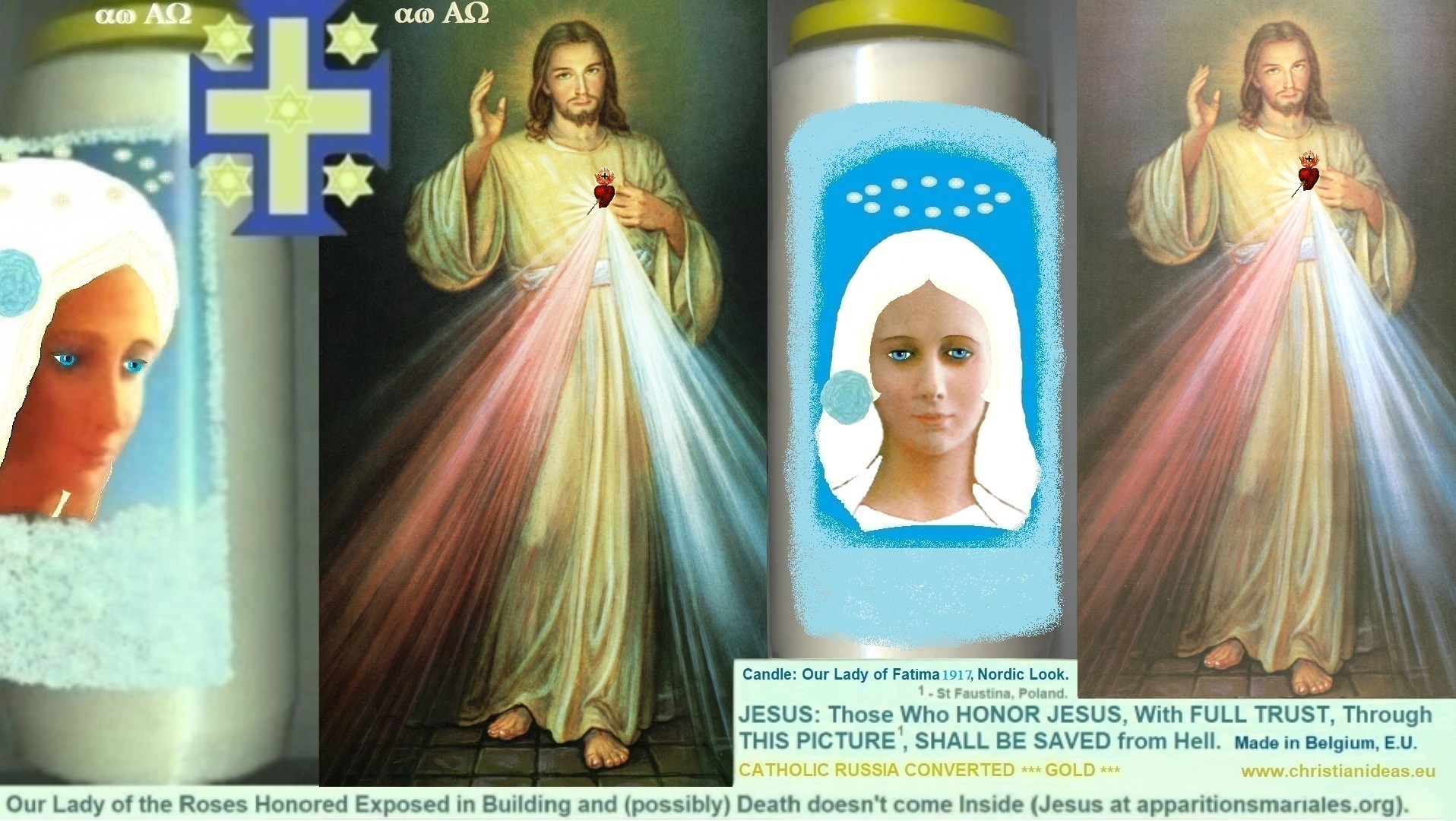 Death doesn't come inside a house where Our Lady of the Roses is exposed + honored, like in this Russia Converted Background...


Donations
If, eventually, you'd like to help financially Christian Ideas through a donation, you can make a transfer to:
IBAN: BE 874 2121 39831 94
BIC: KREDBEBB
possible Mentions:

Donation to Russia Converted Ideas

... or...

Donation

... or...

Donation to christianideas.eu ...
Feel free, there's no obligation.
If you have any questions, please contact the responsible.

---
Over Web site of Ideas from Catholic Russia Converted,
www.christianideas.eu:




If You Want to Defend Good,

PROTECTIONS against EVIL + Take Cross Recommended

(IMMORTALITY SUGGESTION at 1st Sign of Danger,

CONTRACT WITH GOD (ICON AUTOMATIC SALVATION THROUGH DIVINE MERCY), (home page or below), + Daily (better, Attentive):

Rosary, and / or

7 Sorrows, and / or

Crusade Prayer 33,

Crusade Prayer 140 (to speak without fears)...

+ details at christianideas.eu




Note: www.christianideas.eu began in ~2009 and keeps growing. IT REMAINS INCOMPLETE + NOT PERFECT.

Because IT IS NOT FINISHED, NO FINAL VERSION (.pdf) EXISTS. IT KEEEPS GROWING/IMPROVING and there's still many changes to do (and few time, resources...).

If God helps, I'll try to improve and/or correct eventual detected errors, contents + design, little by little.

Please feel free to print it, copy it... (contents license above left with some extra explanations, but the general goal is absolute freedom in a good intentioned True Faith pro God use...)

Good intentioned Pub pro God True Faith welcome!!!
(protections from God recommended then! Evil doesn't like it...)

Right Click + save as to download images...