Ideas to try to Extend Life and to try to Improve Health: Summary
the Jesus Proposal for Immortality
There's a Promise of Immortality from Jesus:

IF YOU PRAY FOR ETERNAL SALVATION + CONVERSION OF THOSE WHO NEED IT MOST,

e. g., Islamic State or Terrorist style warriors'

Jesus promises you Immortality (source: Book of Truth).

(In practice, it calms 'only' dangers for life)
Thus, Watch out: this formula doesn't give good health, but if we pray like that in case of danger for life (or health crisis), it calms. We may repeat it, if necessary. Anyway, we have nothing to loose, and we can always try it, specially in case of danger. Without this kind of prayer, I would already be in cemetery, probably. Thus, thanks, God!!!
Warning: in case of abusive/provocative behavior, e. g., to jump from the 7th floor, in a silly way, just to test the formula, bizarre results shall be expected... risk of coma during years and years?... these kind of tests, preferably to avoid, thus... use it when required, but preferably, in a correct way...
Here follows some extracts of the original message of Jesus, to find, somewhere, in the Book of Truth:
"(…)Not for one minute can a man ever say that he is carrying out an act in God's Name when he kills another human being. Those who create wars and cause genocide, in any form, and who say they are working for the Glory of God, deceive not only themselves but those they recruit, to carry out their wicked intentions.

My Love is so powerful that if you were to pray for these poor lost souls, who believe that killing others in the Name of God, is a good thing, which will bring them honour, I will show them My Mercy, by awakening, within them, the Spirit of Truth. Do not let your hearts become heavy. Instead, know that while these most vile acts, which are committed by those who destroy lives are terrifying, in My Divine Justice, I will put an end to these horrors.

I will lift all of you, who have warm and tender hearts, in an instant, into My Sacred Heart and save you, such is My Love for you. My beloved followers you will not have to endure the pain of physical death. That I promise, if you help Me, through your prayers, to salvage the souls of those who need My Forgiveness and My Mercy the most.

Help Me in this great endeavour and soon all will be aglow with the brightness and the Glory of My New Kingdom. Here, you will live forever without a care in the world. Love for Me, My Eternal Father, your family and friends will reign throughout the world, which will have no end.

Go in peace to love to serve Me.

Your Jesus"
Examples of such prayers:
Crusade Prayers (105) Prayer Asking to Save the Whole Humanity
(since this prayer is only accepted from a humble person, please pray it, asking the mercy for the whole humanity, through the intercession of all saints from heaven, in order to increase your chances to succeed).
"O my dearest Jesus, with my love for You please accept my soul in union with You.

Take my soul, cover it with Your Holy Spirit and help me, through this Prayer, save all those I come into contact with.

Engulf every soul I meet with Your Holy Mercy and offer them the salvation needed to enter Your Kingdom.

Hear my prayers. Listen to my pleas and through Your Mercy and through the powerful intercession of the Virgin Mary and all Saints from Heaven, please salvage the souls of the whole of humanity. Amen."
Crusade Prayer For the salvation of those who reject Christ
"Dearest Jesus, by Your Compassion and Mercy, I beg you for the salvation of those who have rejected You; Who deny Your Existence; Who deliberately oppose Your Holy Word and whose bitter hearts have poisoned their souls against the Light and the Truth of Your Divinity. Have Mercy on all sinners. Forgive those who blaspheme against the Holy Trinity and Help me, in my own way, and through my personal sacrifices, to embrace within Your Loving Arms, those sinners who need Your Mercy the most. I give You my promise, that through my thoughts, my actions and the spoken word, to serve You as best I can in Your Mission of Salvation. Amen."
Novena of Salvation of the Whole Humanity Crusade Prayer:
This one below also is very powerful, but it is very difficult to do it correctly.
Virgin Mary:
"I now give all of you a special Gift, blessed by my Son, so that all souls will be granted immunity from the fires of Hell and be granted salvation. My Son desires that every soul be saved, no matter how grievous their sin. I ask that you now begin the Novena of Salvation.

You must begin this immediately and continue it, as I instruct you to, to the end of time.

You must recite this Prayer for a full seven consecutive days during one calendar month, commencing on Mondays, in the morning time.

You must recite it three times during each of the seven days and on one of these days you must fast.

By fasting you are requested to eat only one main meal during the day and then bread and water only at the other two meal times.

This is the prayer you must say for each of the seven days."
Crusade Prayers (130) Novena of Salvation Crusade Prayer:
"My beloved Mother of Salvation, please gain for all souls the Gift of Eternal Salvation through the Mercy of your Son, Jesus Christ.

Through your intercession, I plead that you will pray to release all souls from bondage to Satan.

Please ask your Son to show Mercy and forgiveness for those souls who reject Him, hurt Him with their indifference, and who adore false doctrine and false gods.

We beseech you, dear Mother, to beg for the graces to open the hearts of those souls who are most in need of your help. Amen."
Crusade Prayers (104) Free this Soul from Slavery
(THIS PRAYER GIVES ETERNAL SALVATION FOR THE PERSON WE PRAY FOR and Jesus saves also other 100 extra persons)
"Dearest Jesus, I present to You the soul of my brother and sister, who has abandoned their soul to Satan.

Take this soul and redeem it in Your Holy Eyes.

Free this soul from slavery to the beast and bring it eternal salvation. Amen."
A Fruit of Tree of Life? Hostia!
JESUS AND HOLY COMMUNION FROM THE TRUE CHURCH (Catholic Church, under attack, up to today) IN STATE OF GRACE ARE FOR SURE FRUITS OF THE (new) TREE OF LIFE. GOD/JESUS is SOURCE OF LIFE, thus, (Conservative Catholic) HOLY COMMUNION IS FOR SURE A FRUIT OF THE (new) TREE OF LIFE.
Concerning that of paradise of Adam, maybe there was a switch of names between figs and apples, in the past, everywhere, because the original name didn't really interest the followers of Lucifer. Not sure! but apples seem to have a positive healthy effect... The fig tree was for sure there, but the fig (not the apple) seemed more to be the forbidden fruit, according to some descriptions (www.apparitionsmariales.org) ... (?)
Watch Out the Antichrist's Immortality Formula

What I thought is becoming reality... THE ANTICHRIST and the EVIL ONE HAVE ALSO AN "IMMORTALITY FORMULA" TO OFFER...

In these Apocalyptic times, good and evil are becoming "equal", a kind of democracy good/ evil, and the forces of Evil, can simulate, with some success, almost everything (wonders / healings/ stigmata etc) which God can do... (TEMPORARY) IMMORTALITY FORMULA's ALSO...

Because evil followers must have an "credible alternative/ compensation" for their choices... and success also... in these Apocalyptic times... indeed, this is one of the last chances of success for the Evil forces... seduction is thus enormous...

According to the messages of May 2017 from heaven, somewhere at www.revelacionesmarianas.com (previous messages), or, in the more complete version (Spanish), at, www.revelacionesmarianas.com (mensajes anteriores), Jesus/Mary say that the Antichrist has an IMMORTALITY FORMULA, WITHOUT (the true) GOD.

WE KNOW FROM THE APOCALYPSE BOOK THAT THAT IS POSSIBLE (Temporary Immortality). There's mentionend somewhere in the book of Revelation, after chapter 12, I think, that, "one of the heads of the best was DEADLY wound, but afterwards, it was HEALED (through witchcraft?), triggering great admiration..." (source to be checked).

PLEASE WATCH OUT THEN: EVEN IF THE EVIL FORCES OFFER "IMMORTALITY ALTERNATIVE FORMULA", without the True God, those who remain with the Evil Forces, WILL BE KILLED AFTERWARDS LATER, (unless repent)... e. g., at the latest, WITH THE PUNISHMENT COMET COLLISION, WHICH PRECEDES THE ARRIVAL OF THE True NEW AGE OF PEACE, WITH THE REAL JESUS... if my analysis is correct, of course, (please check the sources yourself also...)...

s

This alternative immortality formula from the evil forces is, thus, one more seduction... TEMPTATION IS REAL, BECAUSE FOR A TIME, IT MAY WORK...

...BUT AFTERWARDS, THE EVIL FOLLOWERS (without serious repent) SHALL DIE (of course! What would you expect from the forces of Evil???)... Here's the advice...



watch out: RETIREMENT MAY ATTACK YOUR HEALTH
TO DEPART FROM WORK IN RETIREMENT MAY SEEM VERY PLEASANT AFTER 40 YEARS of HARD WORK.
FINALLY SOME DESERVED REST...
PLEASE WATCH OUT TRAPS... BECAUSE RETIRED PEOPLE MAY RUN GREATER RISKS TO DEVELOP greater HEALTH PROBLEMS than ACTIVE PEOPLE...
YOU MAY OBSERVE DISCREETLY AROUND YOU EVOLUTION OF PEOPLE WHICH DOES POSITIVE THINGS TO SOCIETY OR CLOSE RELATED ONES (heirs...)... or those who simply profit from their pension + rest... and take your conclusions...
The lady of 93 years old which remains active working has more chances of a better health than another one, in retreat, passive, alone with a modest income...
GOSPELS WARN DISCREETLY OF DANGERS OF THE SYSTEMS "RICH MAN WHO WANTS TO REST AFTER SEVERAL YEARS OF WORK...", like present retirement systems...
PENSION'S SYSTEMS ARE INDEED LEGITIMATE BUT they MAY ACCELERATE HEALTH DECAY OF THE CONCERNED PERSON.
IF THE CONCERNED PEOPLE DOES SOMETHING POSITIVE TO SOCIETY OR either HEIRS FAMILY CLOSE ONES, it may trigger a reciprocal positive effect.
The concerned retired person has some legitimate freedom and may choose what he/she thinks it's more adequate: generosity, part time or full time or benevolent work, child care...
Protective prayers, daily mass etc may help a bit also, e. g., daily rosary prayer(s)...
watch out: TO CREATE ENEMIES MAY ATTACK YOUR HEALTH
To create enemies may attack your health, because it may trigger negative energies against you. Problem is however complex, because some situations may not be acceptable, opposite interests, fight good x evil, we can not avoid everything. Reconciliation, beg pardon, concessions in several cases may help... in some other cases, some concessions may not be a good idea, but you may always forgive, beg pardon in the points you were not correct, to be open to some dialog, pray for your enemies...
Protections against evil + take cross recommended for those pro God which don't want to be marionettes of evil. + details in home page...
Watch out: BAD MANAGEMENT OF YOUR POSSESSIONS MAY ATTACK YOUR HEALTH
YOUR POSSESSIONS MAY ATTACK YOUR HEALTH. SPECIALLY AGED, already ILL, WEAK, ALONE PEOPLE should watch out... WHY?
BECAUSE OF THE DISCREET RUSE LOGIC OF INHERITANCES... GOSPELS + GOD warns discreetly for the danger, but most of us ignore it... only religious like priest St Antony or Jesus give with good will all their possessions to Church or poor during life... in exchange, they may avoid some health problems... OK, not really seducing for many...
serious pro God ALTERNATIVES???
1. YOU SHOULD SERIOUSLY CONSIDER TO PROTECT YOURSELF WITH DIVINE PROTECTIONS AGAINST EVIL TO BEGIN,
like to pray daily rosary or 7 sorrows + Immortality Suggestion...
2. Marriage + numerous children. POSSESSIONS BECOME THEN A BIT NATURAL, to give comfort to a family... But: RISKS OF POVERTY. MADAM IS NOT HAPPY AND IN PLACE OF A HAPPY FAMILY WITH 10 CHILDREN, one gets... divorce... => dangers for health again...
A VULNERABLE PERSON WITH POSSESSIONS, even if small, e. g., 15.000$ in bank or in possessions, MAY BE SEEN AS A SOURCE OF MONEY FROM INHERITANCE WHICH MAY HELP FINANCIALLY CANDIDATES HEIRS OR RELATED PERSONS WITH SAME INTERESTS... THIS RUSE DISCREET LOGIC IMPLIES => IF THE PERSON WITH POSSESSIONS become ill and afterwards die, "I or my sons, or my grandsons or my spouse etc could profit from some extra money"... "Oh, those 500.000 € of the villa + ground after sold, are really welcome"... "I like the person, but sorry, that money would really help my grandchildren" etc.
PLEASE DON'T BE SEVERE NEITHER. HERE ON EARTH OPPOSITE INTERESTS DO EXIST.
ONLY THIS IS SERIOUS BECAUSE MAY HAVE CONSEQUENCES ON HEALTH LIFE OF TARGETED PERSONS... It attracts negative energies against targeted persons, and mostly, in a discreet way, difficult to notice...
3. BUT WE SHALL FORGIVE OTHERS ALSO... IN SOME CASES, (financial, material) CONCESSIONS COULD BE CONSIDERED... protections from God against evil help: daily rosary...
Possible Example of "Inheritance Logics"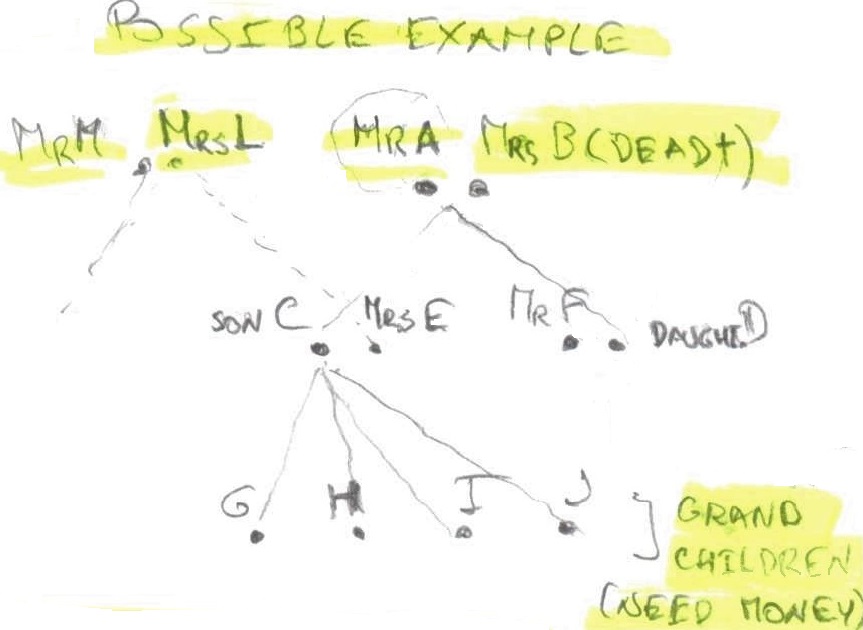 Mrs B is dead. Grandchildren need money.
Mrs L understands better material needs of grandchildren...
...than those of Mr A. Among candidates heritage of Mr A plus those who support them, we have spontaneously...
... Mrs L, even if in reality it may be false...



4.YOU SHOULD TRACE ALL CANDIDATES INHERITANCE + ALL persons or GROUPS, hidden or not, WHICH SUPPORT THEM spontaneously in their material desires... AFTERWARDS SET THINGS CLEAR IF THOSE CANDIDATES ARE LEGITIMATE OR NOT, ACCORDING TO YOUR WILL. A TESTAMENT SHOULD BE CONSIDERED TO GET THINGS CLEAR OVER MATERIAL CLAIMS. REDUCING SERIOUSLY THE NR LEGITIMATE HEIRS (+those who support them in inheritance claims) DIMINISHES ALSO THE IDEAS TO GET QUICKLY THAT "FANTASTIC INHERITANCE", BUT ONLY AFTER SEVERAL MONTHS after establishment of Testament + Pub of it!!! YOU MAY EXPECT A PERIOD OF TIME OF FRUSTRATION, deception + ANGRY WHEN the CONCERNED realize they're going to loose "1000s of $"... PROTECTIONS FROM GOD RECOMMENDED, IF YOU DARE THIS...

IN THE TESTAMENT YOU COULD GIVE YOUR POSSESSIONS TO ~1 MILLION (better, ~100 MILLION, for big possessions) PERSONS, SPLIT IN EQUAL PARTS (goal: cut those health attacking greediness desires). E. g. to give all your possessions, in absence of children, in equal parties, to all clergy members of Catholic Roman Church, if the number of beneficial inheritance persons is big enough to make the inheritance value person really small, e. g. 2 cents per person...

Example1 of a TESTAMENT To Try To cut Greeds:

INHERITANCE GOES ONLY TO CHILDREN OF CONCERNED, NOT rest of FAMILY. OTHERWISE: inheritance goes to solidarity institution or gov or etc very ambiguous and or distant unknown with many members, e. g. 1 million, inheritance possessions split in equal parts to all concerned members, in order to cut dissolve desires of money/possession from persons... namely from part of candidates inheritance who need extra money... THIS CAN CAUSE TROUBLES IN A FIRST PERIOD, until financial deception disappear... PROTECTIONS OF GOD AGAINST EVIL RECOMMENDED. ALSO positive things (compensations) towards the concerned persons could help... the problem: of course, that "inheritance money" would be a lot better... I don't know if things could be solved afterwards... but the primary cause of lack of health etc in the long term should disappear, if person with possessions resists good in first period... some permanent revenge could however still remain (?)... some compensation measures could be considered... but: no guaranties that it will solve 100% the problem... protections from God recommended...

Example 2 of a TESTAMENT To Try To cut Greeds:

Idea: to manage all possession affairs in life + severe God protections to avoid cannibalizations ("she's 115 years old…"; "it's time she dies to free apartment + to get some welcome 'money money money'…")

idea to be tested: to do a testament: all remaining possessions go to all mankind, e. g. 8 billions, divided in equal parts to avoid greed but: concessions to legitimate (children etc) in life should be considered + severe protections of God…

Noah still lived some 600 years... but after the great Flood began the carnivore habits + possessive ideas (division of Earth)... maybe before the great Flood this inheritance logic was less popular... (?)

Even a small apartment where a single or aged couple lives could be seen as a source of inheritance money... to try to cut these greeds, to divide in equal parts some possessive rests could cut carnivore inheritance ideas... (?)

After the Apocalypse people seem to live again 900 years and possibly more healthy (equilibrated vegetarian?) food comes back again... the small lions of Tarshish are there, normally they're not very poor... Tarshish seems to be spread now in Europe America South Asia... thus, not only in SW Spain... ????

5. SOME CONCESSIONS MONEY OR POSSESSIONS DURING LIFE COULD BE CONSIDERED. THAT COULD CALM MANY THINGS. IF YOUR LEGITIMATE HEIRS (or someone else you consider...) HAVE MATERIAL NEEDS, AND YOU HAVE POSSESSIONS, TO MAKE THEIR LIFE EASIER it could be a good idea... BUT IN A CASE OF RELATIVE POOR person, not really, because he/she/couple is not going to sell small house where he/she/couple lives, to give the money and rent a house, sometimes expensive and with greater risks to be expelled from there against own will...

6. IDEA: KEEP WORKING, EVEN AFTER RETIREMENT, IF INCOME CAN INCREASE AND if possible, DO GENEROSITY... other positive christian things of the style towards others...

7. WATCH OUT: TO GIVE ALL WHAT YOU POSSESS AT AGE RETIREMENT COULD ATTACK YOUR HEALTH... afterwards you may be considered not so interesting anymore, more a burden than something else... A GOOD MANAGEMENT OF POSSESSIONS, leaving reserved for you at least a bit for your dignity needs (e. g. with testament of your apartment 1 bedroom to be split in equal parts to all mankind in case of your death...) ... eventually keep working e. g. part time, if enough for your money needs, plus generosity, if health + circumstances permit... if one can live without money from government it's better; otherwise, even legitimate ("I worked 40 years, thus I deserve it..."), it could be seen as a source of expenses to the gov and to the taxes payer, while "if retired person dies, gov would spend a bit less money"... (the logic generally doesn't match reality, but may come to the mind of tax payers).

CONCLUSION: POSSESSIONS MAY ATTACK HEALTH etc from THOSE WHO POSSESSES IT. TO WATCH OUT, THUS, IF YOU HAVE HEALTH PROBLEMS. BUT NOW WE HAVE IMMORTALITY SUGGESTION, DAILY ROSARY and /or 7 sorrows... AN ATTITUDE PURELY SELFISH (and/or refuse to forgive others) DOESN'T HELP NEITHER... to reflect with prudence... it goes often over opposite interests... ideas to make life easier etc... please don't be severe with others neither...
The DEATH IN YOUR Cook PAN? Correlations after the Great Flood... (15/9/2020)
(introductory straw follows, but it helps to set in context...)
BEFORE THE GREAT FLOOD PEOPLE LIVED SOMETIMES 900 YEARS+... AFTER 2nd COMING OF REAL JESUS CHRIST, THINGS GET BETTER AGAIN WITH CATHOLICISM CONSERVATIVE TRUE FAITH EMPIRE OF ISRAEL + SAINTS OF ALL NATIONS THEOCRATIC SYSTEM =>Rev 20. THINGS CHANGED AFTER THE GREAT FLOOD.
IT IS THUS VERY INTERESTING TO ANALYZE CHANGES and CORRELATIONS FROM what happened at Flood time and centuries before and after it. NOAH STILL LIVED 500 YEARS, but AFTERWARDS PEOPLE BEGIN TO LIVE LESS TIME... There was no smartphone neither... sometimes things change... not always as we will... with our logic, but changes Do Exist! Open minds...
Pure VEGETARIANISM (without meat) STOPS. METALLURGY APPEARS. NEW MEALS=> LESS LIFE EXPECTANCY?
THERE IS NO DIRECT LINK. BUT INDIRECT LINKS MAY DO EXIST, combined with Sin...
Please note that Abel was Shepherd. I may conclude Cattle Breeding, Farming/Agriculture existed before great Flood... Honey and Milk products could have been popular before the great Flood, even if people were not carnivore...
EQUILIBRATED, thus SMART BIO VEGETARIANISM IS HEALTHY. COOKED FOOD LOOSE SOME INTERESTING HEALTHY ELEMENTS... NEW POSSESSION SYSTEM DIVISION OF EARTH OF PELEG (if person dies, I could have that money/possession, it helps so much... but person has 1st to die, otherwise no inheritance...)
~4.000 YEARS ago, the HITTITES (now is Turkey) DISCOVERED METALLURGIC TECHNIQUES. THE PAN COOKED FOOD MEAT etc COULD BEOME IMMEDIATE CONSEQUENCE. SALADS ARE HEALTHIER, VINAGER IS ENOUGH TO KILL MICROBES. (red) MEAT IS LESS HEALTHIER, BUT A CHRISTIAN MAY EAT FROM EVERYTHING, it's OK. BUT WE ARE VULNERABLE TO SIN AND EVIL INFLUENCES, AND IN SUCH CASE, EAT (Drink alcohol) TOO MUCH, CANDies (food with white sugar), DRUGS ADDICTION, THEN THERE ARE FOOD MORE HEALTHY AND OTHER LESS HEALTHY (dietetists etc).
A virtuous person (or rather popular person... times are hard now: ruse evil increases...), has generally no problems with food. People more vulnerable to sin, may feel a difference (differences between true faith and Jewish a bit less perfect alliance (with Islamic sect, even worse, but they copied things, thus many good things also, from religions of light, Jewish + Catholic conservative non naive...)).
SMART Bio VEGETARIANISM => Food Habits. POSSESSIONS. COOKED FOOD. It worths to test correlations at long period time, 30 years+ , together with protections + commandments of God + Sacraments (holy communion).
It worths to do a cross check with Wikipedia and other sources. Metal pottery appears, but is expensive, and consequentely remain NOT widely used, But COOKED MEALS (meat...) Yes. Ceramics remained widely used, but they are less adapted to fire cooking. Cooked meals are less healthy, conservation methods kill some of healthy features of original food, nameely vegetal food (antioxidants anti cancer etc). Of course, there's no direct link with health, but it could make a difference to people more vulnerable to sin...
I do NOT intend TO BECOME PURE VEGETARIAN OR TO STOP EATING COOKED FOOD BECAUSE OF THIS. BUT TRYING TO KEEP COMMANDMENTS SACRAMENTS PROTECTIONS FROM GOD and trying to increase healthy raw food equilibrated vegetarian trend may be good idea... (?). Cooked beans green peas etc seems to be completely OK... Simulation Hitite meal available on web...
Alcohol consumption, seems to appear or either to increase also after the great Flood... some benefits, but also some negative points... Alcohol consumption increases aging like white sugar consumption, some health negative effects (hard to become muscled etc), but it may have also some benefits... All this seems to become more popular after great Flood when people live a lot less time...
ADAM AND EVE IN PARADISE. FOOD? FRUITS, available food from plants there. MAYBE LIKE THOSE NOW (Bio, I mean, no pollution). FIG TREE WAS THERE, but unfortunately the intelligence apple was maybe a fresh fig (heaven speaks e. g. at old site apparitionsmariales.org...)... (up to next updates/discoveries, as for Magog analysis...).
TO LIVE ONLY EATING FRUITS AND HOLY HOSTIA? According to basic nutritionism, not so equilibrated... MAYBE IT IS POSSIBLE, BUT FURTHER ANALYSIS is required. ONLY NUTS have some important quantity of proteins... Maybe Adam was not that muscled at paradise times... further analysis required...
Gospels: YOU MAY EAT EVERYTHING. PROBLEM IS SOMETHING ELSE: sin... a good protected person christian behavior may have less problems with food, of course...
GOOD LOOK MAY HELP TO EXTEND LIFE => ANTI AGING + ESTHETHIC + BODY CARE
Still Antediluvian analysis. ADAM & Methuselah LIVED MORE THAN 900 YEARS (i=√-1: do you have troubles with this?). ADAM HAD NORDIC LOOK + CHILDREN (heaven at http://vincentdetarle.free.fr/catho/sauvetage.html to e. g., blessed or holy Catherine Emmerich). EVE HAD NORDIC LOOK BECAUSE GENETICS ARE ~100% THOSE OF ADAM (taken from leg of Adam), thus also blue eyes + red or blond hair...
Eating raw or less cooked, (mostly) vegetarian=> they had healthier food. Their look didn't suffer from hominid hybridization... look seems to help in society, for happier husband, better job => more money => easier to help descendancy, thus to help others, to trigger positive energies...
Better look helps empathy, although we should not reject people neither. Some efforts may help => body care/fast + esthethics + anti aging... good look alone it is not enough, but combined with other remaining pro true faith elements (e. g. help the others in christian way, psychological support, help, empathy, group effect=> solidarity group of known people advancing in age: 500 years+...), it could help a bit.
After Apocalypse, people shall live again some 900 years+... it seems...
Other Ideas: Discreet Fast (+daily Rosary)...
Please note that, normally up to the Final Judgment, death still shall exist and kill people. However, Rev 20:14, the Bible, Jesus, Mary and other sources, give us some ideas to try to extend life (and indirectly, to try to improve health). For example:
Protections of God help (a lot) in case of Unexpected Attacks
Stroke through Remote control/witchcraft?
I defy the evil forces, and as such, I'm a target of evil. I'm not a success case, but thanks to God intervention/protection, I remain alive. Maybe I'm a kind of lab rabbit...
At 12.6.2017, around 3.20 am, in full sleep, I received an "inside" coup (level veins?) like a shot of a "baseball stick". Fortunately, there was a divine intervention / interception of the "coup/shot/stroke", otherwise I could be in cemitery (again, it became frequent in the last 3 years...). I could not pray the prayer of immortality, because I was asleep.
Fortunately, I have other protections from God against Evil, to protect life: our Lady of Roses poster displayed / honored, the medal of the Holy Face in the neck, I pray the rosary regularly/daily... thanks God, for without divine intervention I think that people are powerless against this type of attack, stroke by remote control style...
Very "professional", if triggered by persons, in a Illuminati/freemasonry style... much more professional than the "primitive/brutal" attacks of Islamic state style... without proofs... this is already the third time I feel this type of attack, during the night ... but maybe there was nobody which triggered it from distance... but it's strange... we shall not judge others... but it's better not to be ingenuous neither...
We shall not be ingenuous: the publicity of the Immortality formula of Jesus doesn't reach the whole humanity... and the Bible says, that the death is the last enemy to set under the feet of Jesus... Immortality formula of God exists already, but death proceeds existing... what a pity!
---


Jesus Divine Mercy: Those who honor Jesus, with full trust, through this picture (above), shall be saved





I try to pray for protection to all pro God of planet until 00:00h, to try to disinfest, but it's better to complement it with 24h protective prayer, e.g. attentive rosary or (easier/shorter) 7 sorrows (here further below).

http://www.christianideas.eu/#about tries to help...
Over Web site of Ideas from Catholic Russia Converted,
made in Belgium, E.U.,
www.christianideas.eu:
If You Want to Defend Good,

PROTECTIONS against EVIL + Take Cross Recommended

(IMMORTALITY SUGGESTION at 1st Sign of Danger,

CONTRACT WITH GOD (ICON AUTOMATIC SALVATION THROUGH DIVINE MERCY), (home page or below), + Daily (better, Attentive):

Rosary, and / or

7 Sorrows, and / or

Crusade Prayer 33,

Crusade Prayer 140 (to speak without fears),

to be in state or go to confession catholic priest asap ...

+ details at christianideas.eu
I try to pray for protection all pro God of planet until 00:00h, to try to disinfest, but it's better to complement it, with 24h protective prayer, e.g., attentive rosary or (easier/shorter) 7 Sorrows prayer.
Satan demanded to God 75-100 years to destroy Vatican + money + power => www.tldm.org. Satan had that time, that money, that power. 150 years later, despite dangers + evil, Vatican still resists. Let us see evolution... ??? apocalyptic? reversal pro God (again)???
Note: www.christianideas.eu began in ~2009 and keeps growing. IT REMAINS INCOMPLETE + NOT PERFECT.
Because IT IS NOT FINISHED, NO FINAL VERSION (.pdf) EXISTS. IT KEEPS GROWING/IMPROVING and there's still many changes to do (and few time, resources...). A complete review of the web site should be done, but it's already better than nothing...
If God helps, I'll try to improve and/or correct eventual detected errors, contents + design, little by little. A backup .zip exists (link colomn above). It contains most of the site, behalf the heavy assets.
Please feel free to print it, copy it, behalf, eventually, songs ... (contents license above left with some extra explanations, but the general goal is absolute freedom for use of text + images, in a good intentioned True Faith pro God use...)
Good intentioned Pub pro God True Faith welcome!!!
(protections from God recommended then! Evil doesn't like it...)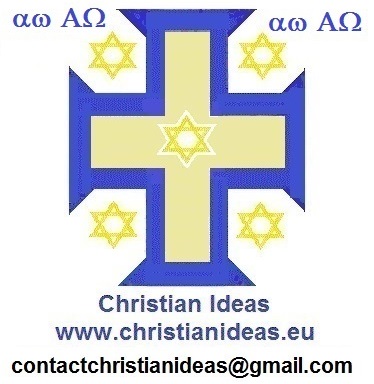 Below: Our Lady of the Roses Honored Exposed and Death doesn't Enter inside.
(source: Jesus at old web site apparitionsmariales )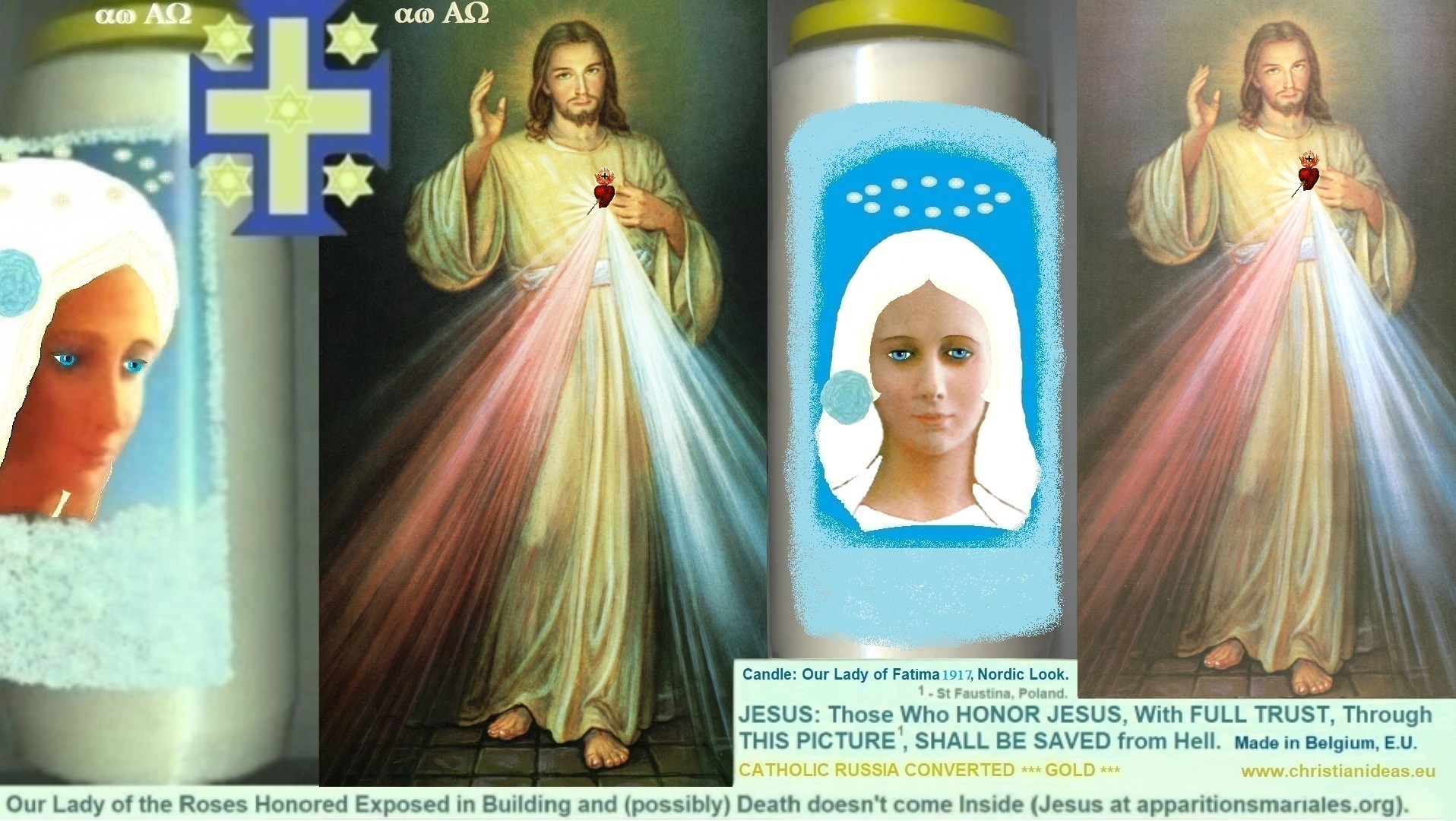 Right Click + save as to download images...