Automatic Salvation through the Divine Mercy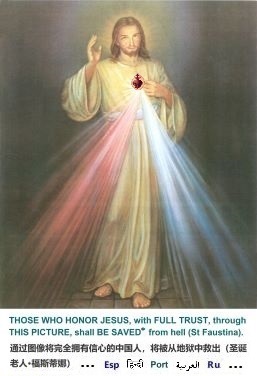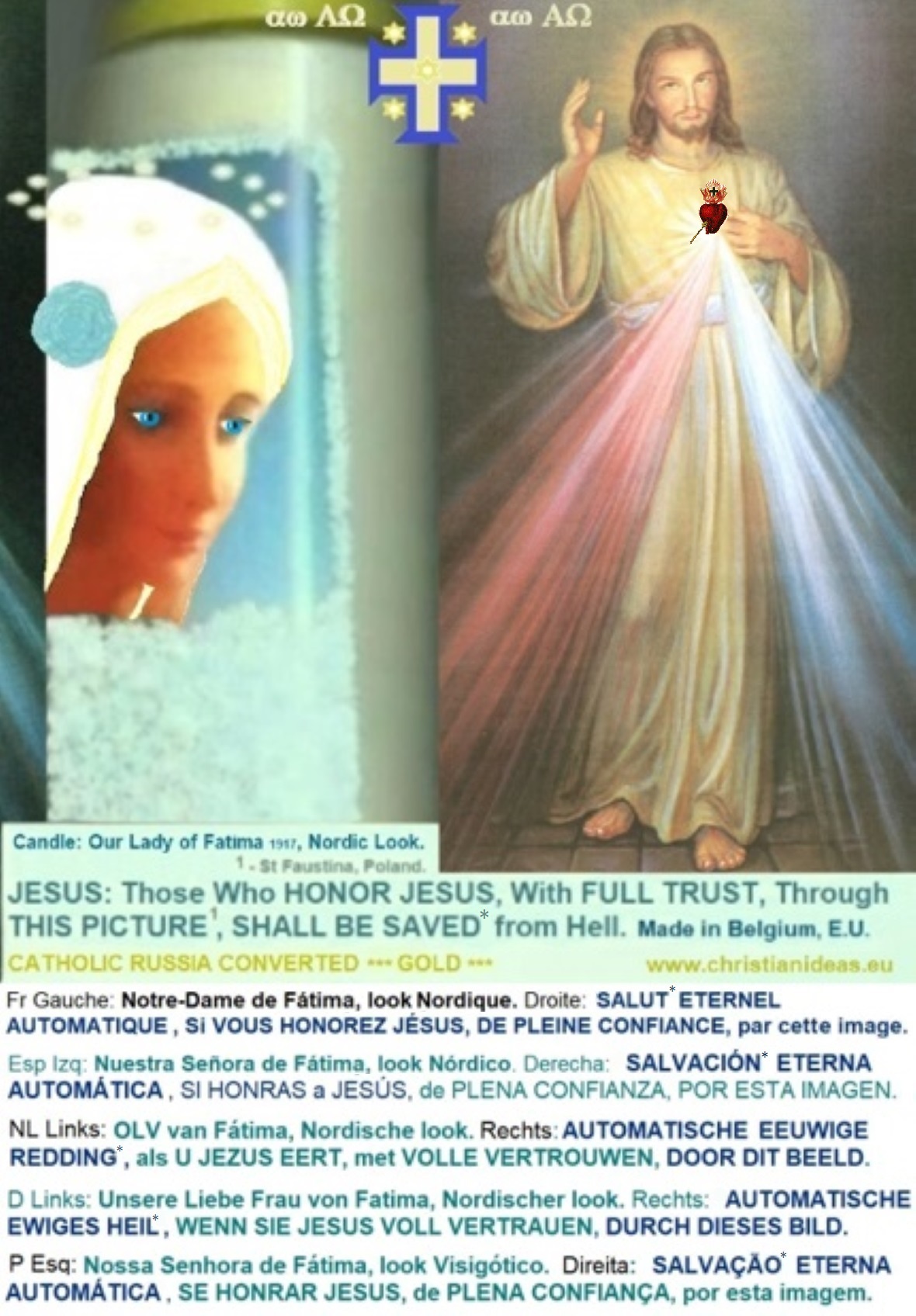 TO BE SAVED From HELL, It Suffices TO HONOR JESUS, Through THIS PICTURE, With FULL TRUST.
God promised it to Saint Faustina.
Official Catholic, thus.

Follows MULTI LANGUAGE Giant Versions of the Icon of Divine Mercy, in GIANT Light Format. Also a smaller version follows, in this section, further below (with translation Google).
This Picture shows the Real Face of Jesus (in GIANT Format, if you click Here).
And why Does It Show the Real Face of Jesus?
Because He appeared to Saint Faustina, through a private apparition in Poland, around 1930, and He asked her to draw His portrait. The result is this picture.
Because it is very well drawn, it shall be very close to the real Jesus.
Please note that Jesus keeps appearing and making promises concerning His Divine Mercy, e.g.

the Prayer asking Jesus for the Divine Mercy for the Whole Humanity
(since this last prayer is only accepted

from a very humble person

,

please pray it, asking the mercy for the whole humanity, through the intercession of all saints from heaven, in order to increase your chances to succeed).
or
For Every Kiss you Dedicate to God, Jesus Will Save 1000 Souls, it seems!
Image gives Access
Only to Purgatory
Please note that, however, when a person is saved by God through this picture, he/she may not enter immediately to paradise, after the death, but most probably, to an intermediate place, outside hell, e.g., the purgatory.
To enter immediately to the paradise, after death, it is much more difficult. One possible way is to pray a rosary, in state of grace (after confession of sins and the little penance), in family, church or in community, with the rejection of all sins, praying for (the good intentions of) the pope.
In this way, and only at that moment only, the person has the pardon of all the temporal punishment from purgatory. But because we're sinners, and we sin constantly, this procedure has to be continually performed in order to clean the purgatory punishments... (see also the link: How to Pray the Rosary)
WHY ARE PUBS TO THIS IMAGE RELATIVELY POOR/INCOMPLETE?
EVIL GETS ANGRY IF SOMEONE MAKES OPEN PUB OVER AUTOMATIC SALVATION, IMMORTALITY SUGGESTION OR DANGER OF APOCALYPSE. GOOD PROTECTIONS FROM GOD AGAINST EVIL RECOMMENDED.
AUTOMATIC SALVATION THROUGH THIS IMAGE + DIVINE MERCY IS OFFICIALLY RECOGNIZED BY CATHOLIC CHURCH.
BUT WE SEE THE ETERNAL SALVATION IMAGE(s) FROM SAINT FAUSTINE IN MANY CATHOLIC CHURCHES/PLACES BUT THE CORRECT PUB IS MISSING.
THE REASON: CATHOLIC CHURCH, at popes level, IS SEVERELY ATTACKED BY EVIL SINCE ~1960.
THE VATICAN STILL RESISTS. IT STILL REMAINS THE LEGITIMATE TRUE CHURCH, BUT SOME (DISCREET) CONFUSION WAS INTRODUCED... EVIL GETS ANGRY WITH OPEN PUB FOR AUTOMATIC ETERNAL SALVATION OPEN TO THE MASSA's...
THUS WE ENTER IN A CATHOLIC CHURCH (or) PLACE, and OFTEN WE SEE THE IMAGE AND WE'RE NOT AWARE OF THE PROMISE OF AUTOMATIC ETERNAL SALVATION ASSOCIATED WITH IT. ONLY BEST INFORMED PEOPLE KNOW IT... DAILY ATTENTIVE ROSARIES WELCOME TO TRY TO RESTORE WILL OF GOD... NOT SO EASY WHEN TENDENCIES ARE TO BIG SIN AND APOCALYPTIC CIRCUMSTANCES... more details in e.g. related sections of www.christianideas.eu or www.tldm.org
1 COR 11:14 ASKS to MEN to WEAR SHORT HAIR. CONTRADICTION?
NOT REALLY, despite appearances... POSSIBLY JESUS HAD SHORT HAIR: THERE ARE PROPHETIC DESCRIPTIONS OF JESUS LIKE THAT IN THE BIBLE... I remember at least from prophetic book of Daniel: reference, I assume to Jesus, with SHORT VERY BRILLIANT WHITE HAIR...
HOWEVER, JESUS IS OFTEN REPRESENTED WITH LONG HAIR ***BUT ALWAYS TOGETHER WITH BARD AND MOUSTACHE TO PRESERVE HIS MASCULINITY***. IT IS NOT SHURE THAT JESUS ~2000 YEARS AGO USED LONG HAIR.
WHAT IS SURE IS SOMETHING ELSE:
SOME PEOPLE DECIDED TO DRAW/IMAGINE/REPRESENT HIM LIKE THAT...
IN THE SAME WAY, I decided to represent a very beautiful Our Lady in an original picture with Blond Platin hair:
She didn't appear like that to me in reality, but I like to see her very beautiful, with Blond Platin hair and a Crown 12 stars...
Thus, People draw Jesus as they want... with time, through the centuries, the long hair version became also popular and people recognize Jesus easier with that look...
THE 2 PICTURES OF SAINT FAUSTINA (the 2nd picture, similar to the 1st one, follows a bit further, below...) + RELATED PROMISE OF AUTOMATIC SALVATION ARE AUTHENTIC + OFFICIALY RECOGNIZED BY CATHOLIC CHURCH. JESUS APPEARED IN THAT WAY SOME ~90 YEARS AGO TO SAINT FAUSTINA AND ASKED HER TO MAKE 2 DRAWINGS/ PICTURES OF HIM.
PLEASE NOTE THAT JESUS APPEARS WITH 2 DIFFERENT FACES. JESUS IS GOD AND APPEARS AS HE WISHES. IN ONE PICTURE HE APPEARS WITH A more ASKHENAZITE/GERMANIC LOOK AND IN THE OTHER HE APPEARS WITH A MORE SEPHARDITE/MEDITERRANEAN/HISPANIC LOOK...
I THINK HE APPEARED WITH SUCH LONG HAIR TO BE MORE EASILY IDENTIFIED. OTHERWISE, SPECCIALLY IN THE HISPANIC LOOK, ONE COULD HAVE TROUBLES TO IDENTIFY easily TRUE JESUS...
Thus, even if 1 Cor 11:14 (source: on-line bible from Vatican) says that:
"...Does not nature itself teach you that if a man wears his hair long it is a disgrace to him,..."
...I think that THERE's NO CONTRADICTION WITH ST PAUL 1 Cor 11:14 : men shall indeed preferrably wear short hair... please don't forget the Bible imposes nothing: the Bible makes suggestions, tells the truth, but imposes nothing...
BUT THIS CASE SEEMS RATHER SIMILAR TO THE ONE WHERE "JESUS DISRESPECTED THE SABATH TO SAVE SOMEONE..."
SIMILARITIES in both situations ARE EVIDENT...at least to me... 2nd AUTOMATIC SALVATION PICTURE FOLLOWS...
"Jesus, I trust in You"
Those who honor Jesus, with Full Trust, through this Picture, shall be Saved from Hell
---


Right Click + save as to download images...



Over Web site of Ideas from Catholic Russia Converted,
www.christianideas.eu:




If You Want to Defend Good,

PROTECTIONS against EVIL + Take Cross Recommended

(IMMORTALITY SUGGESTION at 1st Sign of Danger,

CONTRACT WITH GOD (ICON AUTOMATIC SALVATION THROUGH DIVINE MERCY), (home page or below), + Daily (better, Attentive):

Rosary, and / or

7 Sorrows, and / or

Crusade Prayer 33,

Crusade Prayer 140 (to speak without fears)...

+ details at christianideas.eu




Note: www.christianideas.eu began in ~2009 and keeps growing. IT REMAINS INCOMPLETE + NOT PERFECT.

Because IT IS NOT FINISHED, NO FINAL VERSION (.pdf) EXISTS. IT KEEPS GROWING/IMPROVING and there's still many changes to do (and few time, resources...). A complete review of the web site should be done, but it's already better than nothing...

If God helps, I'll try to improve and/or correct eventual detected errors, contents + design, little by little.

Please feel free to print it, copy it, behalf, eventually, songs ... (contents license above left with some extra explanations, but the general goal is absolute freedom for use of text + images, in a good intentioned True Faith pro God use...)

Good intentioned Pub pro God True Faith welcome!!!
(protections from God recommended then! Evil doesn't like it...)

Right Click + save as to download images...