Automatic Salvation through the Divine Mercy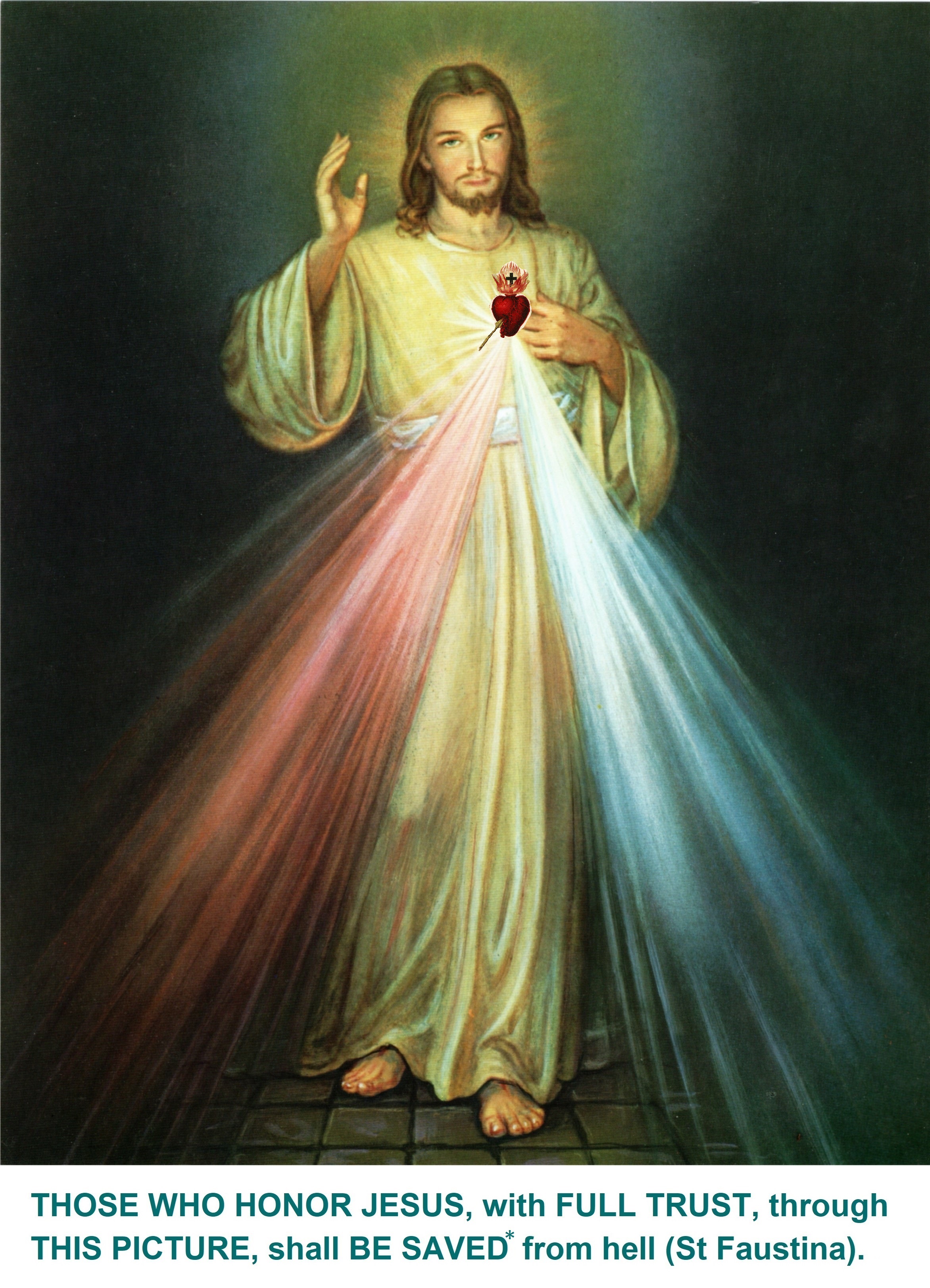 To be Saved, it Suffices to Honor Jesus, Through This Picture, With Full Trust. God promised it to Saint Faustina.
This picture shows the real face of Jesus. And why? Because He appeared to Saint Faustina, through a private apparition in Poland, around 1930, and He asked her to draw His portrait. The result is this picture. Because it is very well drawn, it shall be very close to the real Jesus.
Please note that Jesus keeps appearing and making promises concerning His Divine Mercy, e.g.

the Prayer asking Jesus for the Divine Mercy for the Whole Humanity
(since this last prayer is only accepted

from a very humble person

,

please pray it, asking the mercy for the whole humanity, through the intercession of all saints from heaven, in order to increase your chances to succeed).
or
For Every Kiss you Dedicate to God, Jesus Will Save 1000 Souls, it seems!
Image gives Access
Only to Purgatory
Please note that, however, when a person is saved by God through this picture, he/she may not enter immediately to paradise, after the death, but most probably, to an intermediate place, outside hell, e.g., the purgatory.
To enter immediately to the paradise, after death, it is much more difficult. One possible way is to pray a rosary, in state of grace (after confession of sins and the little penance), in family, church or in community, with the rejection of all sins, praying for (the good intentions of) the pope.
In this way, and only at that moment only, the person has the pardon of all the temporal punishment from purgatory. But because we're sinners, and we sin constantly, this procedure has to be continually performed in order to clean the purgatory punishments... (see also the link: How to Pray the Rosary)
---
(www.christianideas.eu:
PS If You Want to Defend Good, PROTECTIONS against EVIL Recommended (IMMORTALITY SUGGESTION at 1st Sign of Danger, Daily Rosary etc. + details at www.christianideas.eu )