Spirit's Theory: Summary
Spirit's Theory: Introduction
According to this theory, which appears in the Abrahamic religions, God created the universe and the living beings. A part of these living creatures are visible. The other part is composed by invisible creatures. I don't go further in this analysis in what concerns the souls of the death, which can be found in the purgatory, hell, limb, up to the final judgment, or in the paradise. I'm referring thus, mainly to the angels. The angels can be divided in two main categories:
the good angels
the evil angels (also called demons)
God, the Father, and God, the Holy Ghost are themselves spirits.
Our selves, we're composed from a visible body and an invisible soul. Although the body is mortal, the soul is everlasting. That means that the death and the resurrection are only changes of state (for the body).
The Power of the Angels
Which are the powers I believe the angels (good/evil) may have ?
they may act at the level of all that we call " instinct ". I think that is the "instinct" which makes the hens to eat spontaneously corn and not sand, when they're hungry. The fast may also trigger the action of the angels. I mean, behind the nature's good or not so good working process, it could exist a legion of angels which would help the animals to extricate themselves (or not)

they could simulate/counter the laws of the physics of the universe (please refer also to the miracle's theory)

they may protect the nations and trigger the rise/fall of the nations. Please refer to Dan 10:20b-21b; the archangel fought the Persians to prepare the rise of Greece.

They may be hidden in our body. Every human being has a guardian angel. We have also several examples of possessed people in the gospels. Nowadays, the number of possessed persons keep enormously high, but we don't speak anymore about it. It is a taboo, hidden behind the scientific mentality of our age. These possessed persons are called presently with another name: mentally sick patients. That means that the angels/demons act also at the level of all that is called of nervousness, unconscious, under conscious
Thus, all that is:
emotions
somnolence
sensations
visions
pain
dreams, notably the premonitory ones
inner voices
imposed thoughts
abstractions (the fact of fixing himself/herself over an idea or a perception of the reality)
vocations, preferences, tastes
negative tendencies, for example: alcoholism, sex attractions (mainly preverse ones), suicide, obesity, bad humor, steal tendencies, ...
everything related with the non verbal behavior
...
may be caused/simulated by the angels/demons. That doesn't mean, of course, that there are no other realities/perspectives/causes behind these kind of 'symptoms'…
If you dream, possibly your dream was caused by an angel. Your emotions can also be caused by the angels.
And, of course, the angels may be there without being noticed by nobody, only because we can not see them (normally). It seems that the guardian angels have been completely forgotten by their "owners" and most of them are thus "bored" and "unemployed".
What to do if "you see a Spirit"?
What to do If you See a Good Spirit (Archangel Gabriel, Virgin Mary, Jesus...)
In that case, don't be ingenuous, authentification tests recommended... otherwise, you may see Archangel Gabriel like Muhammad did...
1. In such case, before taking apparition seriously, you should ask/impose the apparition Ghost/person to worship one person of the Holy Trinity. In case of an apparition of one person of the Holy Trinity, e.g., a private apparition of Jesus, then you shall ask the apparition to make the sign of the Cross and worship another person of the Holy Trinity, in this case, God the Father and/or the Holy Ghost... A spirit from Hell normally refuses!
2. In any case, you should pray St Michael's prayer (+ Glory to the Father): any spirit from Hell would then have troubles to keep the farse...
3. the test of coherency with the Holy Doctrine is also recommended, Catholicism of Bernardette from Lourdes. Flagrant contradictions (e.g. islamic, New Age, Modernist, Astrological or Protestant sects are quite suspect!) may refer to an "Evil Spirit" deguised in an "Angel of Light"... sign of the cross + "va de retro" recommended...
If the apparition Spirit survive the previous tests, in a serious way, there's chance that those visions/apparitions come from God... otherwise, refer also to section below (what to do if you see an evil spirit)...
What to do If you See (clearly) an Evil Spirit?
If the evil spirit decides to appear as it is and not deguised in "Angel of Light", previous tests are less needed...
Recommended:
if there are health problems associated, then use immortality formula of Jesus! Vision troubles may be related to health also...
a correct sign of the cross + "va de retro" + st Michael's (+ glory to the Father) prayers should be used asap...
afterwards, it's a good idea to call a Catholic (conservative) priester, to ask him advice, and, if possible, to make him to visit and to bless the concerned house/building...
if the evil spirit refuses to be ignored and becomes threatened/aggressive/toxic/persistent, recommended also not to be ingenuous and to reinforce protections against evil... e.g. immortality suggestion of Jesus, St Michael's prayer, daily rosary... + details in home page from www.christianideas.eu...
when your protections against evil are strong enough, use it daily (properly). If the bothering apparition insists to come back, e.g., pray St Michael's prayer (+ glory to the Father) to scare the apparition. Afterwards, maybe you could ignore those supernatural phenomena coming from hell to "distract your mind"... Invisible spirits/supernatural may be everywhere like microbes... we can not really escape it... it's like to be afraid of nitrogen... thus, when protections are good enough, you could try to scare the apparition and, afterwards, eventually to get used to live with it, ignoring it also... otherwise, call a priester/exorcist, reinforce protections!
---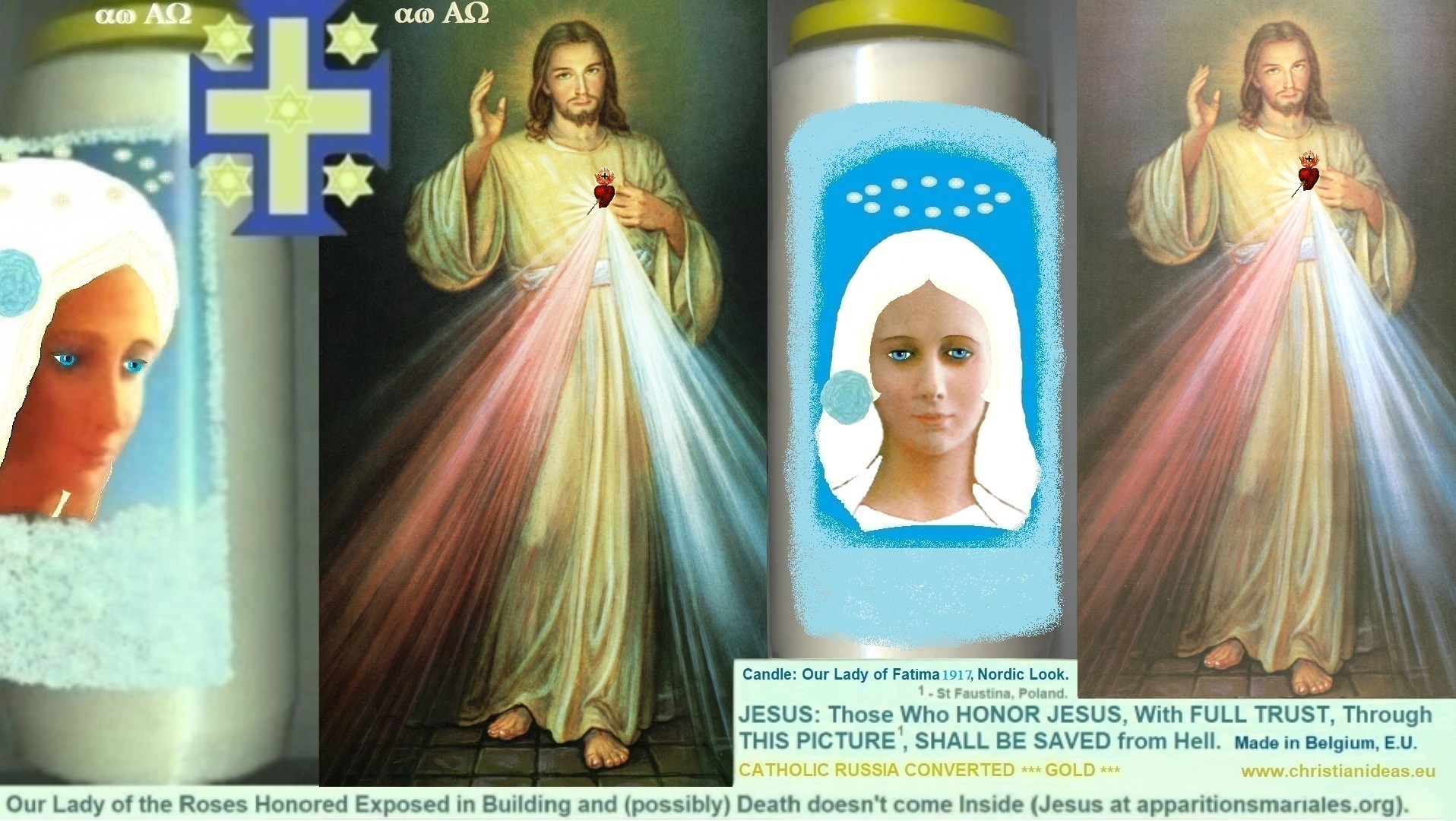 Right Click + save as to download images...



Over Web site of Ideas from Catholic Russia Converted,
made in Belgium, E.U.,
www.christianideas.eu:
DISCERNMENT Criteria, e.g.

true faith catho conservative non naive

:

risk of sect new age in Rome=> the apocalypse...

Risk of Great Famine

=> news from heaven +- serious to e.g. Enoch, G Lomax, L de Maria, J Leary...



Ideas (pro God) to (try) to resist Great Famine

:
St Onofre with a Crumb of Bread,
Blessed grapes L Maria + S Damiano...

MODERN LIES unmasked
(Lies of Darwinism, Fake Dates...)

History + demographics since 2000BC unmask fake dates. Hominids were hybrids which existed before great Flood, confirms Jesus at apparitions mariales . org …

Proactive Darwinism: ~mouse evolves=> bat => vampire, thus ancestor man/whale etc goes to=> Batman => Dracula... within same ~million years…



ICON OF AUTOMATIC Eternal SALVATION
(bottom of page or home page, on top)
IMMORTALITY SUGGESTION:


GLBT + Modern Sex BEHAVIOURS: Unhealthy, KILL...




It attracts pests… Vaccin Papillom protects only 70%... it's possible to attack underconscious…



IDEAS AGAINST AGING & GRIPPE/PEST

Dangers of Vaccins: e.g. 666 etc.
BETTER ALTERNATIVES + Pro God: Fast & prayer (good against evil => Medjugorje) until it calms...(discreet fast & prayer or in solidarity group, prayer style (attentive daily) rosary or 7 sorrows... some food may help: avoid white sugars (fruits honey better if sweet food needed), but 1/8 glass whisky or vodka, 1/5 glass vinager, 2 cloves raw good garlic mixed e.g. in salad to help counter pest... + immortality suggestion in dramatic cases to calm a bit and in place of dying win forces to pray a rosary /7sorrows... + details links above below


IDEAS FOR A BETTER LOOK (Ladies & Veil)

How FAKE PUBS BRUNETTE & Erotica ARE KILLING CATHOLIC MARRIAGE FOR LIFE: Sarah x Agar…

(because of unhappy husband: too few beautiful ladies to choose… SOS Esthetics...

correlations 30 years to detect trends:

... lady educating children in micro appart feels so happy as Husband with lady with not cared esthetics... eats white sugared stuff... brunette look...)



MODERN WOMAN IDEOLOGY UNMASKED:
Demographic fall in West (+ Russia)…
stats 1919-2019: Germany x India…

Downloads etc
Images for T shirts posters etc Christian Ideas and/or Russia Converted Catholic (made/improved in Belgium), Sample Songs...





If You Want to Defend Good,

PROTECTIONS against EVIL + Take Cross Recommended

(IMMORTALITY SUGGESTION at 1st Sign of Danger,

CONTRACT WITH GOD (ICON AUTOMATIC SALVATION THROUGH DIVINE MERCY), (home page or below), + Daily (better, Attentive):

Rosary, and / or

7 Sorrows, and / or

Crusade Prayer 33,

Crusade Prayer 140 (to speak without fears)...

+ details at christianideas.eu




Note: www.christianideas.eu began in ~2009 and keeps growing. IT REMAINS INCOMPLETE + NOT PERFECT.

Because IT IS NOT FINISHED, NO FINAL VERSION (.pdf) EXISTS. IT KEEPS GROWING/IMPROVING and there's still many changes to do (and few time, resources...). A complete review of the web site should be done, but it's already better than nothing...

If God helps, I'll try to improve and/or correct eventual detected errors, contents + design, little by little.

Please feel free to print it, copy it, behalf, eventually, songs ... (contents license above left with some extra explanations, but the general goal is absolute freedom for use of text + images, in a good intentioned True Faith pro God use...)

Good intentioned Pub pro God True Faith welcome!!!
(protections from God recommended then! Evil doesn't like it...)

Right Click + save as to download images...